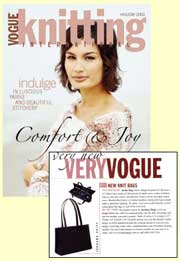 Knitting Bag / Tote
Jordana Paige believes that just as a woman's purse goes everywhere with her, so should her knitting and here at Angel Yarns we all agree!
We are very pleased to now stock the complete range of Jordana Paige Messenger Bags & Purses, smart mixes of form and function in classic styles that are ideal for knitting on the go.
We've now also got in stock another range of bags that are perfect for knitting on the go... OI Oi. OK, admittedly they are baby bags but wait to you see the designs before you pass judgement!
Psychedelic retro designs Tess fell in love with - in fact we seem to have some at home too for some reason!
Perfect as overnight or travel bags too, there's something for everyone - great designs that are really functional.