Beautiful Yarns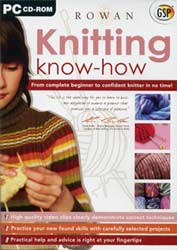 Rowan is an English designer yarns supplier based in Holmfirth, England, specialising in luxurious premium knitting and crochet yarn and designer knitting patterns.
For many years Rowan Yarns have produced quality wools and beautiful books full of wonderful knitwear. Two magazines are produced each year, that include over thirty-five patterns along with interesting reading on various topics including designers, wool sources and current fashions. Mini-magazines are also published to highlight specific wools (Big Wool Collection and Big Just Got Bigger for example) with patterns to knit specifically for them. Twice a year Rowan launch new colours and wools to the delight of knitters all over the world, once for the spring and once for the autumn seasons.
From beautifully soft cotton to big chunky wool to classic luxury fibres, they provide today's hand knitter with the world's finest quality wool with exceptional pattern support from many books and magazines.
Learn to Knit PC CD Rom - Knitting Know-How
Click Images for Details
Rowan Purelife Organic Cotton
Rowan Wool
Rowan Wool Mix
Rowan Speciality Yarn
Rowan Cotton