Angel's Recycled Sari Silks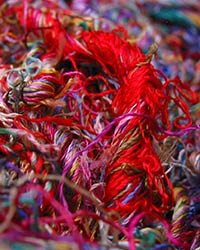 At last! 8 colourways available in recycled silk sari yarn.
This gorgeous yarn is 100% silk in a myriad of vibrant colours, perfect for knitted garments, accessories and trimmings.
Imported from Nepal, where it is spun by women to provide additional income for their families, these fair trade sari silks are hand spun into this wonderful textured yarn. Each skein is unique in its colourways and natural inconsistencies of the fiber, turning the most simple project into something very special.
Each hank varies in colourway so we have banded them into eight options with the pictures shown being representative of the yarn you will receive.
Each recycled sari silk yarn hank is approximately 100g & 90-100 yards, 4-6.00mm needles. Hand wash in cold water and dry flat, or dry clean. Please note that some of these yarns have a certain 'aroma'.
We recommend the silks are hand washed and dried before knitting up, this loosens the fibres making it softer and nicer to knit with.
We also recommend if you are making a big garment that you knit a couple of rows from each hank alternately to prevent obvious colour-banding.
Wonderful free patterns can be found at these web sites...
SALE
Click image for bigger picture